Many people are asking why Sudh Desi is Selling only Desi Cow A2 Milk and that too at 100 Rs. Some brands are selling at around 90 Rs per ltr packet milk. Let me tell you certain comparisons as per my experience.
Some people are saying why not selling A1 Milk.
So here is my input.
Why not A1 Milk?
Sudh Desi, I started with vision of providing Indian Traditional, Healthy and Fresh produce on doorstep at reasonable price. Sudh Desi is here not just for business, its here for building healthier future and changing habits of people.
Let me tell you Sudh Desi would never sell A1 milk, because in simple word, based on my research, many online articles and book Devil in the Milk by Keith Woodford, I feel A1 milk is harmful. Please read my other blog (https://www.sudhdesi.com/single-post/a2a1milk) . Sudh Desi would never sell any harmful stuff. Over and Out. I know there are many companies selling both A1 and A2 Milk, first they started with A1 milk, then they saw market of A2 milk so started selling that as well. I feel its completely unethical to sell both A1 and A2 milk. On what basis any company can ask customer to purchase A1 Milk in case A2 milk is not affordable, for me its unethical to ask customer to consume A1 Milk.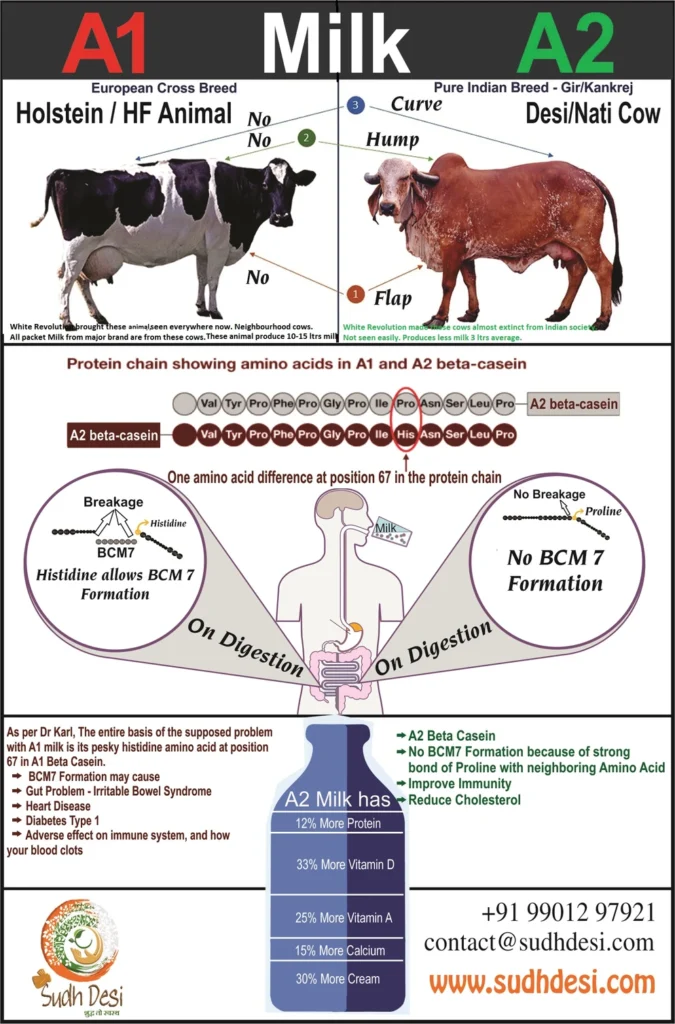 Why Sudh Desi Fresh Raw Milk at 100 Rs Per ltr?
A1 Milk (40 rs / ltr) vs A2 Milk (100 rs / ltr)
-> A1 Milk Cows (HF, mixed European and other mostly seen cows in the village and cities) – a product of white revolution. they give 7-25 ltrs of milk per time with same feed quantity.
-> A2 Milk Cows (Gir/Kankrej/Rathi) – they give 1-5 ltrs of milk per time with same feed quantity.
So 1-4 ltr A2 milk against 7-25 ltrs A1 milk. So you can imagine the costing of A2 Milk, if it is double the A1 milk price then also it is cheaper as per ratio.
Machine Processed/Chill A2 Milk (In Red)
vs
Sudh Desi Fresh Raw Desi Cow A2 Milk (In Green)
Machine Processed/Chill A2 Milk – 13-14 hrs time for delivery. As they always sell either 1-2 days Older milk or at least 14 hrs earlier milked milk.
Sudh Desi Fresh A2 Milk – 4-5 hrs time maximum for delivery.
They purchase Milk from remote places or have Goushala in remote places, so cost lowers. Then they use machine to chill or process the milk to make the Shelf life longer so that it can stay for 2-3 days.
we have to finish from milking to delivery within max 4-5 hrs time.
They have expiry of 2-3 days on milk. So they have time to sell the milk.
We supply Fresh milk so storage is not possible like chilled packet milk, 4-5 hrs of expiry.
1-2 chiller goods vehicle can supply 1000 ltr or more milk in city and neighboring areas since they have 8 to 10 hrs of time to deliver.
Fresh Milk, there is short timeline so supply can not be more than 30-40 km area from farm.
From one place either distribution center 1000s of liter of milk can be supplied on time early in the morning or evening due to more time (10 hrs or more) in hand . The more milk they supply the more margin they have.
From one Gaushala, Sudh Desi can not cover more than certain areas due to time constraint.
Chilled packaged milk is easy to handle.
Fresh Raw milk is always more prone to getting spoiled.
Any obstruction on transport, they have cushion of time (10 hrs or more ), still they can catch-up on delivery time. That's why customer always gets milk at 6 AM.
Any obstruction in transport, fresh milk supply time gets impacted.
Delivery at 6:00 AM is no big deal as the time they have in hand for supplying.
Delivery at 7:00 AM can be done to only nearby areas.
Now lets look at calculation
So for delivery of even 1000 ltr milk one Van and one person is enough and some delivery persons or retail store. As there is expiry of 2-3 days on milk. Here they can increase demand without incurring extra much labour cost as they have enough time for doing all delivery.
Here one person can not deliver more than 30-40 ltrs of milk because of time constraint. So higher the supply the higher the expenses. Same is the case with milking, we have limited time to milk cows, so the higher the demand, the higher the number of milkman and so expenses. With raw fresh milk, its just impossible to supply from one Gaushala 1000 ltrs of milk
Their price range 80-100 rs with good profit margin as supplies can be in 1000 or more liters.
Sudh Desi Price is 100 rs / ltr, which is very tight on profit. So 100 Rs / ltr is reasonable price.
Hope you can understand now the time constraint and costing. Plz do not compare us with previous day or old Machine Chilled / Processed A2 Milk or A1 Milk. Sudh Desi can get into chilling process, just purchase one machine in 5-10 lacs and start supplying old milk. But it defeats my purpose of starting Sudh Desi to supply fresh stuff. Its just not biz for me, Its more than that.Yes, I need money to sustain and make it bigger. Sudh Desi will never work like big industrial way, its always going to be creating hubs all over India in different localities. Yes, I need co-operation from Customer also on becoming aware about our traditional stuff and rituals for better health and healthier future. I dont want my kids to be in bad health conditions like Diabetes / Heart Problem / Blood Pressure / Cancer etc once they reach 40 yrs of age as the way diseases are making home in our society.
Hope I am loud and clear.
Thank you, please leave your reviews and comments.